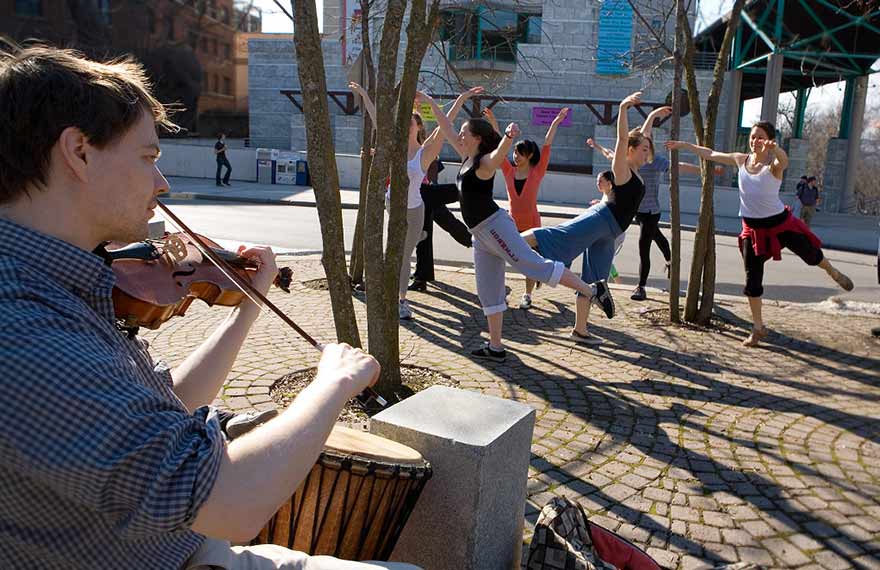 150 Events Celebrating our 150 Years
Don't be surprised to find students dancing in the street outside NYC's Cornell Club or clips of student films on plasma screens all over campus. They're part of the Department of Performing and Media Arts' sesquicentennial project.

PMA #150 Events
If you encounter people dancing in the street as you get off the campus-to-campus bus in New York City or if you happen to catch a bit of a student film on the plasma screen on your way to get lunch, take the time to stop and watch.
These events are part of the celebration for Cornell's 150th birthday brought to you by the Department of Performing and Media Arts' sesquicentennial project, #150events.
Brought together by Joyce Morgenroth, a recently retired professor of dance, the abundant mini-performances will begin at orientation in the fall and continue throughout the academic year.
"The Department of Performing and Media Arts is such a fertile ground for creativity, it seemed a natural fit for us to loose the floodgates this year as we celebrate Cornell's sesquicentennial," Morgenroth said.
In addition to a season of performances at the Schwartz Center, given the number of events, many will be small involving a few dancers or actors, Morgenroth said, and they will be offered in a surprising variety of locations where you might not expect to encounter dance, film or theatre – for example the suspension bridge or the lobby of Lynah Rink before a game.
A list of events will be available on the PMA website, pma.cornell.edu/150events and they'll also be promoted on twitter, Facebook and Instagram.
Some of the events will have ties to Cornell's history, Morgenroth said, such as a photo exhibit of dance at Cornell dating back to 1935 or the "Walk of Fame," on the Arts Quad, where passersby will be surprised by how many prominent actors, dancers, designers, directors, filmmakers and producers were students at Cornell.
A Variety of Events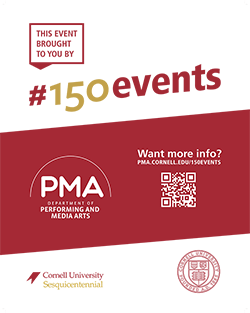 Showcases of student film projects, both documentaries and features
Displays of set designs from Schwartz Center productions, highlighting the months of planning that go into creation of a set
Performances by edgeofthegorge, a student dance company led by faculty member Byron Suber
Theatrical vignettes performed off-site to promote upcoming shows and to reveal what acting and directing students are learning in the classroom
Special Cornell Cinema events, including live music with silent films and guest artists